Research article
Open Access
The occurrence of progesterone 5β-reductase is not limited to the angiosperms: a functional gene was identified in Picea sitchensis and expressed in Escherichia coli
New Zealand Journal of Forestry Science
2016
46:7
Received: 3 August 2015
Accepted: 18 February 2016
Published: 10 March 2016
Abstract
Background
Progesterone 5β-reductases (P5ßRs) catalyse one step in the stereospecific biosynthesis of cardenolides (potent repellents of herbivores and pharmaceutical stimulants of disordered heart muscle cells). They were originally discovered in the genus Digitalis and have since been frequently isolated from other angiosperms. Recombinant P5ßRs engineered in Escherichia coli host cells convert a broad spectrum of compounds in vitro, sometimes with higher efficiency than with progesterone. This observation suggests additional functions for cardenolide metabolism and promises future use in sustainable chemistry and biotechnology.
Methods
A tissue complementary DNA (cDNA) library was screened for orthologous P5ßRs. Candidates were subcloned into expression vectors and overexpressed in E. coli cells. The recombinant P5ßR protein was investigated for catalytic activity with several related substrates. Using spectrophotometric assays, the biochemical parameters of the enzyme were calculated. A 3D model was created and was compared to the previously published P5ßR structure of Digitalis lanata and other plant P5ßR models.
Results
Performing protein similarity searches in public databases and comparison of 3D protein structure models revealed four cDNA clones in a tissue library of Picea sitchensis (Bong.) Carrière putatively encoding P5ßRs. Succeeding with the expression of one clone in E. coli, the highly purified protein was unambiguously able to enantioselectively convert progesterone into 5ß-pregnane-3,20-dione. However, the catalytic activity to reduce the small molecule 2-cyclohexen-1-one was nearly 100 times faster. Methyl vinyl ketone was reduced similar to results from previously studied angiosperm resources.
Conclusions
(i) The low catalytic efficiency for progesterone conversion agrees with the fact that conifers have not been reported to accumulate cardenolides. This finding suggests that alternate metabolic processes occur whereby the newly detected enzymes could transform smaller molecules rather than large ones such as progesterone. (ii) An ancient P5ßR gene appears to have existed in the last common ancestor of seed plants approximately 300 million years ago. If the diversification of P5ßRs, including the currently detected homologous iridoid synthase activity, was related to stress encountered during the transition to growth on land, then investigation of P5ßRs from pteridophytes and bryophytes should improve our knowledge of this enzyme class and elucidate the direction of evolution.
Keywords
Progesterone 5β-reductaseExpressionSubstrate specificityPinaceae
Background
Cardenolides are known to repel herbivores and are traditionally used in human medicine as a heart stimulant (Agrawal et al. 2012). They are a group of glycosylated steroidal compounds that occur in numerous families of angiosperms (Luckner and Wichtl 2000) and are frequently detected in dicotyledonous species (reviewed by Kreis and Müller-Uri 2010), e.g. the rosids (Crossosomatales; Myrtales; Celastrales; Malpighiales; Fabales; Rosales; Brassicales; Malvales) or the asterids (Gentianales; Lamiales; Solanales; Asterales). Cardenolides have also been reported from derived monocots (Poales; Asparagales; Liliales) as well as from ancestral eudicots (Ranunculales). This distribution suggests that cardenolides arise from genes that were already present during the early diversification of angiosperms (Krenn and Kopp 1998; Luckner and Wichtl 2000). Tarrio et al. (2011) claimed that they were probably spread by horizontal gene transfer between protobacteria and plant cells. On the basis of genomic evidence from pines (Gavidia et al. 2007), we assume that homologous genes existed in plant genomes prior to the evolutionary split of angiosperms and gymnosperms. However, this hypothesis must be regarded as unproved until it has been verified by acceptable enzymatic evidence.
Progesterone 5ß-reductase (P5ßR) controls chiral cardenolide biosynthesis because it reduces progesterone via hydride transfer and protonation exclusively to 5ß-pregnane-3,20-dione (Fig.
1
; for the detailed mechanism of this stereo-selective 1–4 hydrogen addition, see Thorn et al.
2008
), whereas no 5α-pregnane-3,20-dione has been found (Gärtner et al.
1990
). Related enzymes have been detected in other plant species that do not accumulate cardenolides, following the initial purification of P5ßR activity from
Digitalis purpurea
L. by Gärtner et al.
1994
. However, the identification of the resulting biochemical products remains a challenge (Herl et al.
2006
,
2009
; Gavidia et al.
2007
; Bauer et al.
2010
; Perez-Bermudez et al.
2010
; Munkert et al.
2011
,
2015a
,
2015
; Ernst et al.
2015
).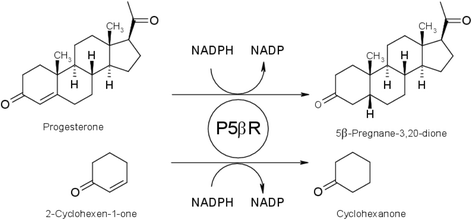 All P5ßR enzymes isolated from plants belong to the short-chain dehydrogenase/reductase (SDR) superfamily (Kavanagh et al. 2008). They contain three highly conserved N-terminal protein motifs (I to III) responsible for binding the co-substrate NADPH. Because other standard SDR motifs are missing, plant P5ßR proteins represent a distinct SDR class (Thorn et al. 2008).
Five additional conserved amino acid motifs (IV to VIII), positioned towards the C-terminal protein half, have been discovered by sequence alignments, 3D modelling, and site-directed mutagenesis. These motifs play an important role in the molecular architecture including substrate binding and catalysis (Gavidia et al. 2007; Thorn et al. 2008; Perez-Bermudez et al. 2010; Bauer et al. 2010, 2012).
It is noteworthy that the expression of some P5ßR genes by plants is enhanced following wounding or in response to other stresses, such as increased mannitol concentration (Yang et al. 1997). However, P5ßR has been constitutively expressed at basal levels in all plant organs examined (Herl et al. 2009; Munkert et al. 2011). This pattern of expression can result from P5ßR encoding gene duplications, which gives rise to different regulated genes. Such an effect has been recently observed in Catharanthus roseus (L.) G. Don and Medicago truncatula Gaertn. (Munkert et al. 2015). In addition to single-stress defence reactions, it is possible that there is a fundamental role for P5ßR enzymes during plant development because an Arabidopsis thaliana (L.) Heynh. mutant has an abnormal leaf vein pattern (VEP) (Jun et al. 2002).
P5ßR enzymes are also promising tools for carrying out biotransformation (a current approach has been described by Durchschein et al. 2012) because they reduce in vitro a broad variety of molecules bearing an activated C=C double bond, such as monocyclic enones (e.g. 2-cyclohexen-1-one, as shown in Fig. 1) or acyclic enoate esters (e.g. ethyl acrylate). In some cases, these reactions occur with higher efficiencies than for progesterone (Burda et al. 2009; Reß et al. 2015).
This study identified P5ßR enzymes in conifer tree species, where such proteins have not previously been detected unambiguously. Initial testing of substrate specificity and catalytic efficiency was also undertaken.
Conclusions
If plant P5ßR diversification was related to stress encountered during the transition of plants to growth on land as claimed by Jun et al. (2002), then the investigation of P5ßR proteins from lower plant species should significantly improve phylogenetic studies. Homologous genes from pteridophytes and bryophytes or genes from conifer species will then serve as outgroups to rebuild rooted phylogenetic trees inferring ancestral genes and derived genes, as well as the enzymatic reactions.
Declarations
Acknowledgements
We thank J. Bohlmann (University of British Columbia, Vancouver, Canada) for the generous gift of the cDNA clone WS02727_D09 and H. Besir (EMBL, Heidelberg, Germany) for providing the plasmids pET28 M SUMO3-GFP and pET11 M-SenP2. The help of two anonymous peers and the editor in making this paper more accurate to read is acknowledged.
Open AccessThis article is distributed under the terms of the Creative Commons Attribution 4.0 International License (http://creativecommons.org/licenses/by/4.0/), which permits unrestricted use, distribution, and reproduction in any medium, provided you give appropriate credit to the original author(s) and the source, provide a link to the Creative Commons license, and indicate if changes were made.
Authors' Affiliations
(1)
Chair of Pharmaceutical Biology, Department of Biology, Friedrich-Alexander University of Erlangen-Nuremberg, Erlangen, Germany
(2)
Biotechnology Group, University of Applied Sciences Zittau/Görlitz, Zittau, Germany