Research article

Open Access
Biomass and root attributes of eight of New Zealand's most common indigenous evergreen conifer and broadleaved forest species during the first 5 years of establishment
New Zealand Journal of Forestry Science
2018
48:9
Received: 15 November 2017
Accepted: 8 May 2018
Published: 18 June 2018
Abstract
Background
Tree allometric equations are critical tools for determining tree volume, biomass and carbon stocks. However, there is a lack of species-specific biomass equations for juvenile trees of many of New Zealand's indigenous species. The aim of this study was to provide allometric equations for total above- and below-ground biomass and total root biomass and length for eight common evergreen conifer and broadleaved species.
Methods
In a plot-based field trial, growth metrics of conifers Prumnopitys taxifolia (matai), Agathis australis (kauri), Prumnopitys ferruginea (miro), Podocarpus totara (totara), Dacrycarpus dacrydioides (kahikatea) and Dacrydium cupressinum (rimu) and broadleaved species Alectryon excelsus (titoki) and Vitex lucens (puriri) were measured annually. These species were selected based on their potential role as a long-term solution for mitigating erosion in areas of marginal land proposed for new afforestation/reforestation and as an important carbon (C) sink.
Results
Root collar diameter (RCD) provided the best fit for tree height, total above-ground biomass (AGB) and total below-ground biomass (BGB), and all regressions were highly significant (P = 0.001). Most species showed significant increases in annual growth and, by year 5, the BGB ranged between 21 and 42% of total biomass and decreased with increasing plant age. Of the conifers, Podocarpus totara had the greatest mean maximum root spread (2.2 m) exceeded only by the broadleaved Vitex lucens (2.5 m). For all species, and in each year of the trial, 100% of the BGB remained confined to within 0.5 m of the ground surface. With the exception of Vitex lucens and Podocarpus totara, > 90% of the total root length remained within a 0.5-m radius of the root bole. The species-specific mean tree biomass of 5-year-old plants ranged from 0.32 to 4.28 kg plant−1. A mixed-species forest established at 1000 stems per hectare (spha), consisting of 200 of each of the best performed of the trialled species, would amass ~ 2.3 t ha−1 of biomass and a forest carbon stock of 3.8 t CO2 ha−1 within 5 years.
Conclusions
Inter-species differences in the allocation of BGB and AGB appeared to be age dependent. The root-growth metrics of these common indigenous forest species, as candidates for erosion control, have improved our understanding of their potential usefulness for stabilising marginal land. Whole-plant biomass of juvenile trees will greatly improve the accuracy of current estimates of forest carbon stocks for proposed new areas of indigenous afforestation/reforestation.
Keywords
BiomassRoot systemsConifer and broadleaved species5-year plot-based trial
Background
Before human settlement, New Zealand was almost completely vegetated with indigenous evergreen podocarp (mainly conifer) and broadleaved forest in the lowlands (~ 200 m), transitioning to Nothofagus forest at elevations above 600 m to the tree line at 1050 m and alpine-subalpine shrubland and grasslands on the highest parts of the axial ranges (McGlone 1988; Wilmshurst 1997). However, since Maori (beginning ~ 600 years BP) and then European settlement (starting in the 1820s), much of New Zealand's indigenous forest has been cleared for conversion to pastoral use, for the development of a forest industry involving non-indigenous species and/or for urban development. By the time the first National Forest Survey began in 1945, only 25% of indigenous forest remained on a total land area of 26.6 million hectares, mostly in mountainous (difficult to farm) areas (Masters et al. 1957). In more recent years, the ongoing clearance of vegetation has led to the progressive loss of biodiversity and degradation of waterways and water quality through increased erosion, sedimentation and nutrient pollution.
An increase in awareness of the poor health of New Zealand's remaining areas of indigenous forest (as well as public and government pressure to maintain and enhance the indigenous biodiversity of New Zealand) (Parliamentary Commissioner for the Environment 2002) has encouraged reversion of cleared land back to forests. The planting of indigenous trees has become an integral part of indigenous-forest restoration efforts. Furthermore, since ratifying the Kyoto Protocol (Intergovernmental Panel on Climate Change (IPCC) 2000; New Zealand Climate Change Office 2003), New Zealand proposed to reduce its carbon emission target in the short to medium term through afforestation/reforestation. Exotic forests established on former grasslands since 1990 are likely to provide the major carbon offsets, but it has been recognised that an important additional carbon sink could be created through afforestation/reforestation of steep, erosion-prone pastoral hill country that environmentally is marginal for long-term agriculture by using indigenous shrubs and trees (Tate et al. 2000; Tate et al. 2003, Trotter et al. 2005). Relatively little is known about carbon sequestration by indigenous shrub species, but the density and diversity of species typical of naturally reverting stands suggests that relatively high levels of carbon storage are achievable. A range of additional objectives in sustainable environmental management will also be achievable. These include improving indigenous biodiversity, erosion mitigation and soil conservation and consequent improvements in water quality. Importantly, from a carbon-sink perspective, indigenous shrubs provide the first step to a successional pathway to a permanent cover of indigenous tall forest (Hall 2001; Wardle 2002). The resultant forests typically comprise long-lived conifers and broadleaved species that can achieve large stature and an active growth phase that extends from 150 to 500 years (Hall 2001, Hinds and Reid 1957). As suggested by Hasselmann (1997), active net carbon accumulation over such time frames is consistent with the prolonged effort likely required to effect significant reductions in atmospheric carbon dioxide (CO2) levels.
Given the pressing need to quantify carbon fluxes associated with terrestrial vegetation dynamics, an increasing number of researchers have sought to improve estimates of tree volume, biomass and carbon stocks. Many New Zealand-based studies have attempted to quantify the biomass of indigenous forest stands, mainly for live-tree carbon sequestration (Carswell et al. 2012; Scott et al. 2000; Trotter et al. 2005; Beets et al. 2014; Schwendenmann and Mitchell 2014; Dale 20131). These use allometric functions based largely on figures derived for individual specimens of a single species such as kānuka (Kunzea ericoides var. ericoides (A. Rich.) J. Thompson), and, where available, published values for a limited number of other species (Russo et al. 2010). The few available biomass relationships are for a handful of old-growth indigenous tree species from a subset of New Zealand forest classes and from a limited number of sites (Beets 1980; Allen et al. 19982; Peltzer and Payton 20063; Beets et al. 20084). Thus, where species-specific and/or regional values remain unavailable, congeneric values have been used instead or in their absence, the mean of all published values (Beets et al. 2008). Furthermore, the majority of these studies were of mature trees though the age of the sample trees was not always determined.
Tree allometric equations are critical tools for determining tree volume, biomass and carbon stocks and have the potential to improve our understanding about carbon sequestration in woody vegetation to support the implementation of policies and mechanisms designed to mitigate climate change (Jara et al. 2014). In New Zealand, substantial gains have been made in improving the accuracy of the above-ground live tree carbon stored in the most widely distributed forest and shrubland ecosystems following the establishment of a nationwide network of permanent sample plots, (Carswell et al. 2012; Scott et al. 2000; Trotter et al. 2005; Peltzer and Payton 2006; Beets et al. 2014). Nonetheless, as identified by Peltzer and Payton (2006), there remains a growing need for further age-specific and species-specific allometric relationships particularly for the 20 most abundant species that comprise 90% of the total live-tree carbon in old-growth forests. However, the below-ground biomass component has proven difficult to quantify for old-growth trees. In particular, little is known about root allocation except that there are interspecies differences in root distribution. Each species is known to allocate differing proportions of their total biomass to roots at different stages of growth, but overall, species-specific allocations of dry matter to roots are generally poorly documented (Korner 1998). Other than destructive sampling, there are few techniques with which to assess either the below-ground biomass component or the architectural differences in root system attributes between species. The use of non-invasive techniques such as ground-penetrating radar (GPR) is limited to coarse-root systems (Hruska et al. 1999). The fine-root components are particularly difficult and expensive to measure accurately. Several New Zealand and international studies have shown that roots comprise approximately 20% of the above-ground live tree biomass (Watson and Tombleson 2002; Beets et al. 2007). The precision of these root estimates, however, tend to be low (Hall et al. 2001) but have nonetheless been used in the absence of better species- and age-specific data. Furthermore, studies that have attempted to extract the majority of the below-ground root biomass often exclude the stump (Will 1966; Heth and Donald 1978; Watson and O'Loughlin 1990) and therefore underestimate the below-ground to above-ground biomass ratio. Previous authors (e.g. Cairns et al. 1997; Coomes et al. 2002) have suggested a value of 20% can be applied generally, but more work is needed before this figure can be accepted internationally.
Nationally, about 1.45 million hectares (Mha) of marginal pastoral land are suitable for afforestation/reforestation by indigenous shrubs or forests (Trotter et al. 2005). The enactment of the Permanent Forest Sink Initiative (PFSI) and Afforestation Grant Schemes (AGS) in 2008 and 2015, respectively (Ministry for Primary Industries 2015), and the introduction of forestry to the Emissions Trading Scheme (ETS) have strongly incentivised the planting in new areas of indigenous shrublands and/or successional tall forest species as a means of further reducing greenhouse gas emissions and ensuring that New Zealand meets both its short- and long-term obligations under the Framework Convention for Climate Change (FCCC). Given the current interest in the retirement of economically and environmentally unsustainable pastoral steep lands, the planting of successional indigenous forest species with a longer rotation and higher wood value may become an alternative and viable land use option for these areas. Furthermore, a species change to indigenous shrubs and/or forest trees could potentially alleviate issues currently associated with harvesting non-native species (predominantly Pinus radiata D.Don) that were originally established for erosion control, particularly in terrain with a high risk of storm-induced landslides. Issues include excessive amounts of sediment and associated woody debris, damage to infrastructure and the degradation of stream habitats. However, more fundamental knowledge is required on the differences in relative growth rates between indigenous shrubland, conifer and broadleaved species and more specifically on the contribution of their root systems towards shallow soil reinforcement, especially during their formative years. Such data will assist in evaluating the potential effectiveness of various species both as plantings on marginal land degraded by erosion and as a longer-term land-use option for areas retired from exotic forest production. As is the case for old-growth indigenous forests, such data for the early-growth period of the majority of indigenous shrub and forest species have not been collected to date. Such data are essential for the development of allometric relationships for measuring the live-tree carbon sequestration for: (i) planted areas of juvenile shrubs and mixed species of indigenous conifer and broadleaved forests; (ii) areas of abandoned pasture currently in the juvenile stage of reverting to shrubland; and (iii) areas of exotic forest with 'high environmental risk' and likely to be converted (planted or by natural reversion) to a longer-term, and more sustainable, mix of indigenous shrubland and conifer/broadleaved forest.
This study is the first known attempt to systematically quantify, as a time series, both the above- and below-ground growth metrics for eight of New Zealand's most common indigenous conifer and broadleaved forest species during their early growth period (years 1 to 5). The goals of this study were to: (i) develop species-specific allometric equations to better estimate above- and below-ground live-plant biomass/carbon storage for areas of newly planted marginal land established as a pathway to a permanent indigenous forest and long-term carbon sink; and (ii) provide the first-ever description and classification of their root morphology and architecture and measurements of their root metrics (biomass, length and the spatial distribution of roots with increasing distance from and below the root bole). Such data form the basis for assessing their potential effectiveness as an alternative land-use option in areas degraded by erosion and deemed marginally sustainable for pastoralism and/or for areas currently unsustainable as short-term rotation exotic forest.
This paper does not address: (i) the effect of containerised versus bare-rooted seedlings on plant growth; nor (ii) the impacts of the wider range of ecological and environmental stresses known to influence plant development (e.g. competition for nutrients and water, soil texture and fertility; water-logging; drought; elevation; climate regime; exposure to wind and sun; shade; and grass suppression) since it is a site-specific study; nor (iii) silviculture and management practices other than planting density requirements needed to achieve effective mitigation of erosion. Information on ecological and site requirements and growth parameters of mature trees of the selected species are provided in Additional file 1 and has been sourced from previous research by Foweraker (1929), McSweeney (1982), Pollock (1986), Salmon (1986), Poole and Adams (1994) and Wardle (2002). The ecology, establishment, growth and management of the studied species for wood production is adequately discussed by Bergin (2003), Bergin and Steward (2004), Bergin and Gea (2005, 2007) and Steward and Beveridge (2010).
Results
BGB/AGB ratio
In year 1, although the BGB/AGB ratio was highest for the tap-rooted Vitex lucens (0.89) and lowest for the plate-rooted Prumnopitys taxifolia (0.25), there was no consistent relationship between this ratio and root type from year to year (Additional file 3). By year 5, Podocarpus totara (0.21) and Prumnopitys taxifolia (0.23) had the lowest BGB/AGB ratio, and although for Vitex lucens the BGB/AGB ratio remained the highest of the trialled species (Fig. 5), it had halved to 0.42 by year 5. Similarly, a decline in BGB allocation with increasing age was apparent in Podocarpus totara (0.47 in year 1, decreasing to 0.21 in year 5) and Prumnopitys ferruginea (0.5 in year 1, decreasing to 0.35 in year 5). Averaged across all eight species, the BGB and AGB was 0.32 and 0.68, respectively.
Root length and root system dimensions (diameter)
Exponential growth analyses of RCD and total root length fitted least well for
Podocarpus totara
with RCD explaining 46 and 66% of the variation in root length for roots > 1 and > 2 mm, respectively. In contrast, this relationship fitted best for
Prumnopitys ferruginea
with RCD explaining between 83 and 85% of the variation in root length for roots > 1 mm and > 2 mm, respectively. (Table
3
, Fig.
10
).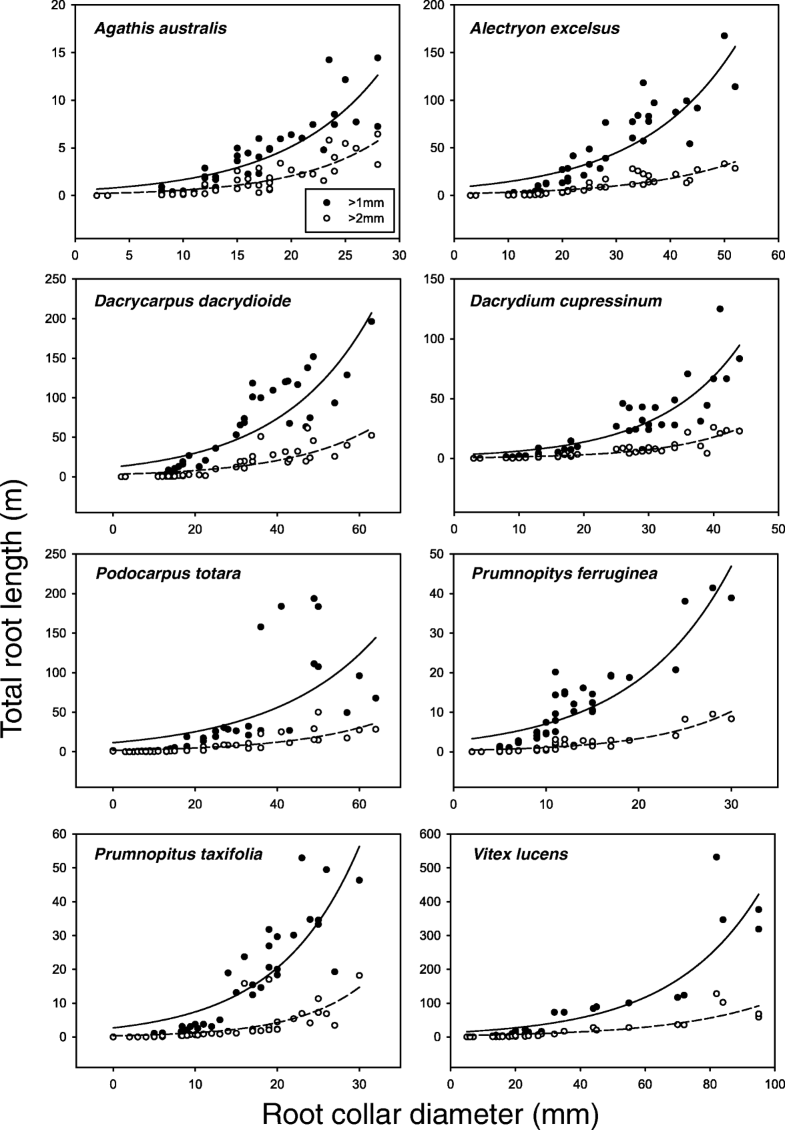 At year 1, none of the species had produced roots > 1-mm diameter. By year 2, Alectryon excelsus and Vitex lucens each produced > 2.5 m of root, significantly more (P = 0.05) than Dacrycarpus dacrydioides (~ 2 m), which in turn was significantly more than that of each of the remaining species at < 1 m of root length (Additional file 4). By year 5, the total root length for each species increased substantially and differences between species became more pronounced. For example, Agathis australis produced the least mean total root length (9.01 m) while Vitex lucens (347.45 m) at the same age produced two orders of magnitude more root length (Additional file 4).
In years 2 and 3 of the trial, and for each of the species trialled, 100% of the total root length occurred within a 0.5-m radius of the root bole, and for
Agathis australis
, this was the case through to year 5 (Fig.
11
, Additional file
7
). By year 4, only
Dacrycarpus dacrydioides
,
Alectryon excelsus
and
Vitex lucens
had extended their roots into the 0.5–1.0-m radial sector where
Vitex lucens
had a significantly greater proportion (
P
 = 0.05) of its total root length (34%) at this radial distance than did
Dacrycarpus dacrydioides
(19%) and
Alectryon excelsus
(17%). Similarly, at 1.0–1.5-m radial distance from the root bole,
Vitex lucens
had significantly more (
P
 = 0.05) of its total root length (~ 5%) than did
Dacrycarpus dacrydioides
(1%) and
Alectryon excelsus
(0.4%).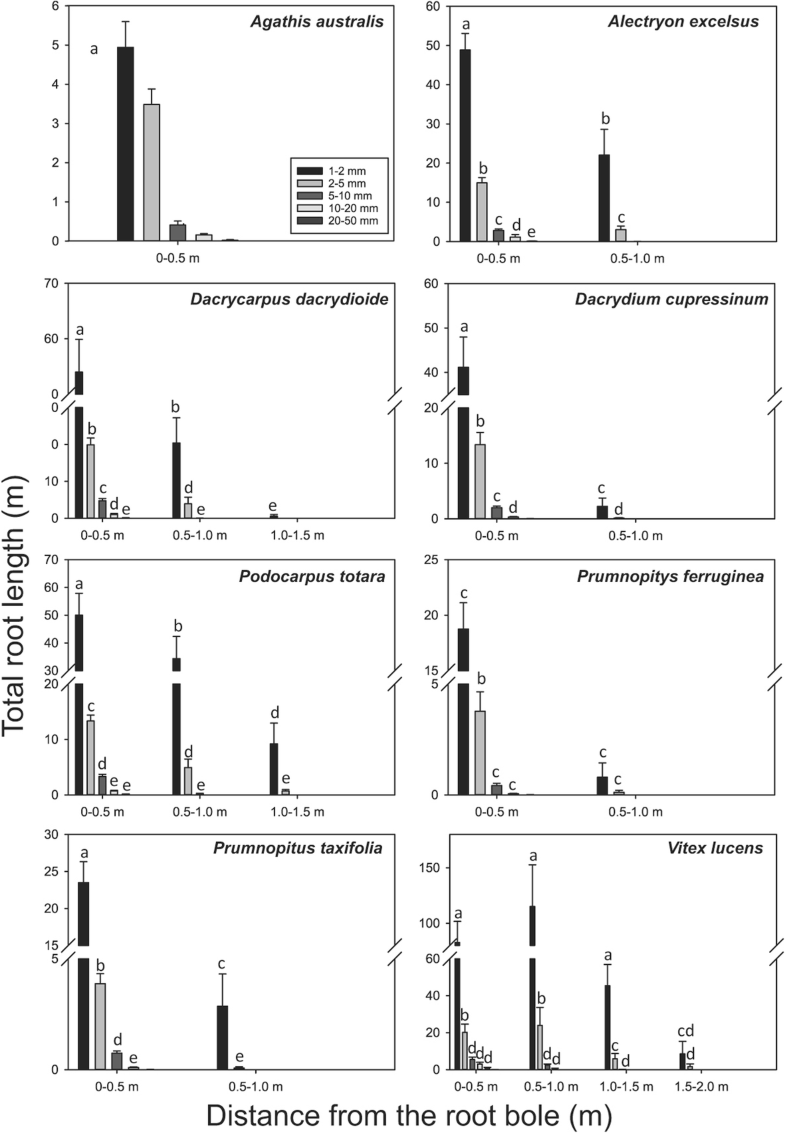 For all species, in years 1 and 2, there was little inter-species difference in mean root system dimensions (i.e. mean maximum root spread). However, by year 5, of the broadleaf species, Vitex lucens had developed a significantly greater (P = 0.05) mean maximum root spread (2.5 m) than had Alectryon excelsus (1.6 m), and its root spread was also significantly greater than that of the largest of the conifer root systems, i.e. that of Podocarpus totara (2.2 m) (Additional file 4). The mean maximum root spread of both Alectryon excelsus and Dacrycarpus dacrydioides (1.7 m), while not different from each other, was significantly larger (P = 0.05) than the more compact root systems of Prumnopitys taxifolia (1.2 m), Prumnopitys ferruginea (1.0 m) and Dacrydium cupressinum (1.1 m), which in turn were not significantly different from each other. The mean maximum root spread of Agathis australis (0.5 m) was significantly smaller than that of the remainder of species trialled (Additional file 4).
Root length by root diameter size class
For all the trialled species, the highest proportion of the total root length of 5-year-old trees was in the 1–2-mm-diameter size class and with the exception of
Agathis australis
comprised > 70% of their total root length. For
Agathis australis
, 39% of its total root length comprised roots in the 2–5-mm size class, 20% greater than for the remainder of species (Fig.
12
). The percentage of total root length decreased with increasing root size class, and for the 20–50-mm size class, where present, roots comprised ≤ 1.5% of the total root length. None of the trialled species had roots in the > 50-mm diameter size class.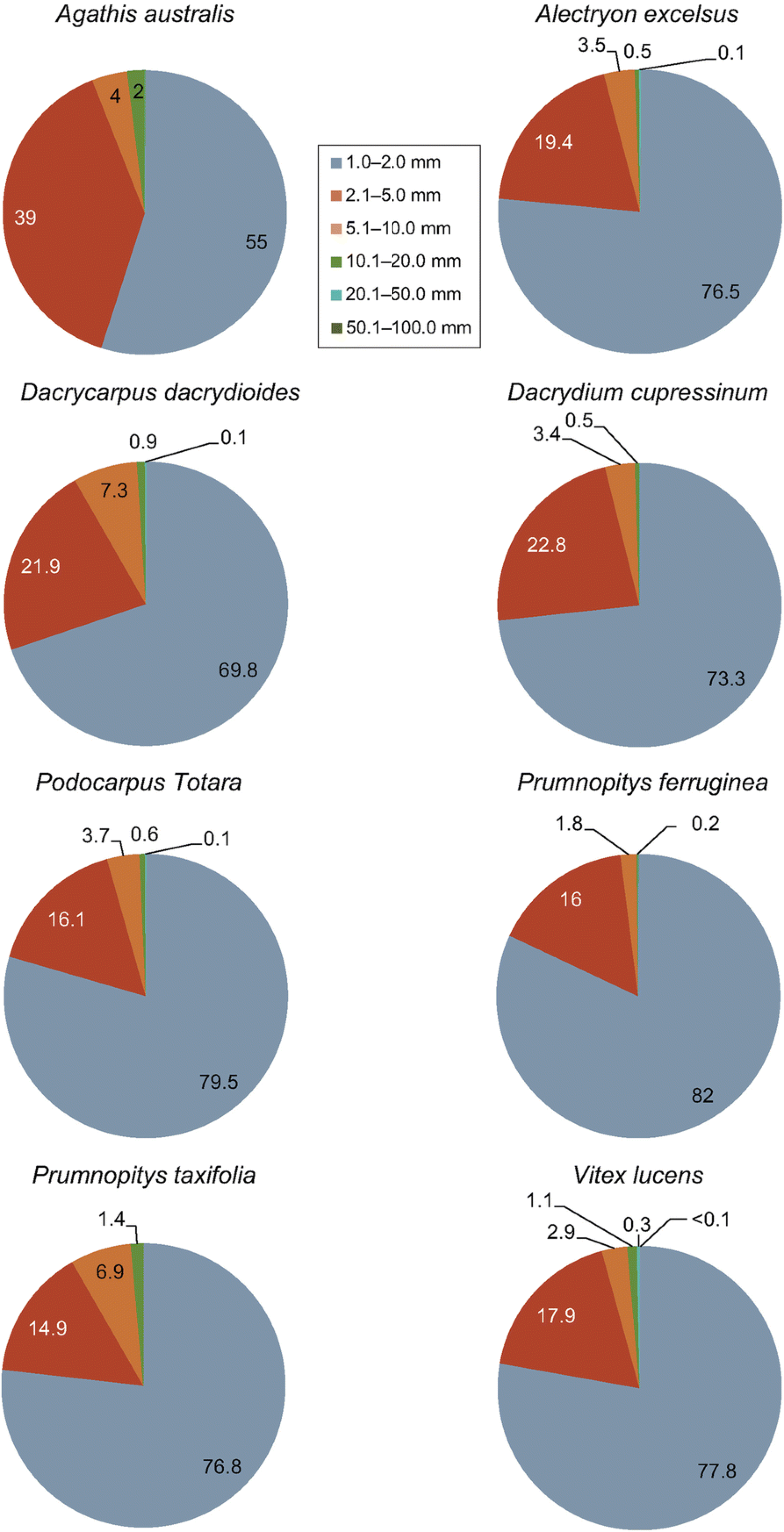 Plant biomass and carbon accumulation
For each of the species trialled, the mean annual total biomass of individual trees increased significantly (Additional file
3
). By year 5, the slowest growing of the trialled species including
Agathis australis
,
Prumnopitys ferruginea
and
Prumnopitys taxifolia
each accumulating the least total biomass of ~ 0.32 kg tree
−1
(0.16 kg of C), ~ 0.56 kg tree
−1
(0.26 kg of C) and ~ 0.72 kg tree
−1
(0.36 kg of C), respectively. Conversely,
Dacrycarpus dacrydioides
,
Dacrydium cupressinum
and
Alectryon excelsus
each accumulated ~ 1.56 kg tree
−1
(0.78 kg of C), while the highest biomass accumulation was by
Podocarpus totara
~ 2.59 kg tree
−1
(1.30 kg of C) and
Vitex lucens
~ 4.28 kg tree
−1
(2.14 kg of C) (Table
4
).
Table 4
Mean tree biomass (dry weight), carbon content (kg) and carbon stock (t CO2/1000 stems per hectare) for 5-year-old trees
Botanical name

Common name

Mean tree biomass (kg)

Carbon content (kg)

Carbon stock (t CO2/1000 spha)

Coniferous species

 Agathis australis

Kauri

0.32 (0.03)a

0.16 (0.02)a

0.53 (0.05)a

 Dacrycarpus dacrydioides

Kahikatea

1.60 (0.24)bc

0.80 (0.12)bc

2.64 (0.40)bc

 Dacrydium cupressinum

Rimu

1.56 (0.13)c

0.78 (0.06)c

2.58 (0.21)c

 Podocarpus totara

Totara

2.59 (0.32)d

1.30 (0.16)d

4.28 (0.53)d

 Prumnopitys ferruginea

Miro

0.52 (0.09)a

0.26 (0.04)a

0.85 (0.15)a

 Prumnopitys taxifolia

Matai

0.72 (0.07)ab

0.36 (0.03)ab

1.18 (0.12)ab

Broadleaved species

 Alectryon excelsus

Titoki

1.49 (0.23)c

0.75 (0.12)c

2.47 (0.39)c

 Vitex lucens

Puriri

4.28 (0.92)e

2.14 (0.46)e

7.07 (1.52)e
Root system types
Two types of root systems (tap-rooted and plate-rooted) were observed based on the descriptive classification of Hinds and Reid (1957) we recognised.
Of the trialled species that developed a tap root (Agathis australis, Dacrycarpus dacrydioides, Vitex lucens, Podocarpus totara and Dacrydium cupressinum), the seedling radicle of Agathis australis (Fig. 2a) was prominent earliest (3-year-old plants) and extended deeper (0.3 m) than the remainder of the trialled species. By year 5, Podocarpus totara produced the longest laterals extending a distance of 2.2 m, significantly longer (P = 0.05) than all the other trialled species, and of the broadleaved species, Vitex lucens attained the greatest mean root spread (2.5 m) (Additional file 4).
Plate-rooted species include the conifers Prumnopitys taxifolia and Prumnopitys ferruginea and the broadleaved Alectryon excelsus. Their juvenile root systems are compact and consist largely of abundant fibrous and numerous short, gnarly, lateral roots of small diameter size (< 1 mm diameter) somewhat resembling that of Agathis australis but lacking a tap root (Fig. 2b). Of the plate-rooted species, the broadleaved Alectryon excelsus developed the longest lateral roots by year 5 with a spread of 1.6 m, significantly longer (P = 0.05) than the other plate-rooted species (Additional file 4).
Conclusions
This study has provided much-needed new information on the overall growth performance of eight of New Zealand's more common conifer and broadleaved forest species. However, the conclusions drawn are primarily premised on their early growth period (first 5 years) at one trial site; thus, it must be acknowledged that allometric relationships will likely change with increasing tree age. The excavation of whole-plants has provided rare and valuable insights into inter-species differences in root architecture (dimensions), root sizes and biomass and their distribution relative to soil depth and distance from the stem. Such data are integral to the selection of an appropriate species mix, planting density and as a means of assessing the period (years after planting) juvenile plantings are likely to remain vulnerable to the initiation of shallow landslides. Although the juvenile plants of the trialled species typically develop very shallow root systems, observations and anecdotal descriptions of the root systems of older trees show they have potential for mitigating shallow landslides, earthflows of small extent and dry ravelling within a few years of planting. Conversely, as the basal failure plane of the deeper forms of mass movements such as earthflows and slumps tends to be deeper than the vertical limit of root penetration of the majority of the trialled species, their stabilisation will occur progressively over several decades.
The previously unavailable species-specific information on rates of whole-plant biomass accumulation for the indigenous forest species presented in this paper will improve current estimates of forest carbon stocks (t CO2 ha−1) during the juvenile stage of growth of mixed-species or single-species woodlots proposed for new plantings on land considered marginal for pastoral use and unsustainable for short-rotation exotic forestry.
Species-specific growth performance data for both old-growth and juvenile trees of many of New Zealand's indigenous species remain elusive. It is therefore important that further time-series baseline data on plant growth rates are collected for a greater variety of New Zealand's indigenous species across a diversity of site conditions known to influence plant growth and that data on root metrics, in particular, are collected in a format suitable for inclusion in slope stability and/or soil reinforcement models (e.g. Schwarz et al. 2010), many of which suffer from a paucity of the types of data collected in this study (Phillips et al. 2012).
Footnotes
1
Dale, J. M. (2013). Evaluation of methods for quantifying carbon storage of urban trees in New Zealand. Paper as partial fulfilment of Bachelor of Engineering (Honours) thesis, University of Auckland, Auckland, New Zealand.
2
Allen, R. B., Wiser, S. K., Hall, G., Moore, T., Goulding, C., Beets, P., Nordmeyer, A. (1998). A national system for monitoring change in carbon storage in indigenous forests and scrub: testing plot locations on a South Island transect. Contract Report JNT9798/166 for the Ministry for the Environment, Wellington, New Zealand.
3
Peltzer, D. A., Payton, I. J. (2006). Analysis of carbon monitoring system data for indigenous forests and shrub lands collected in 2002/03. Landcare Research Contract Report LC0506/099.
4
Beets, P. N., Oliver, G. R., Kimberley, M. O., Pearce, S. H. (2008). Allometric functions for estimating above-ground carbon in native forest trees, shrubs and ferns. Scion Report 12679, prepared for the Ministry for the Environment.
5
Payton, I., Forrester, G., Lambie, S., Berben, P., Pinkney, T. (2009). Development and validation of allometric equations for carbon inventory of indigenous forests and shrublands. Landcare Research Contract Report LC0910/004. Prepared for the Ministry of Agriculture and Forestry.
Abbreviations
AGB:

Above-ground biomass
AGS:

Afforestation Grant Scheme
BGB:

Below-ground biomass
BP:

Before present
C:

Carbon
CO2 :

Carbon dioxide
DBH:

Diameter at breast height
ETS:

Emissions Trading Scheme
FCCC:

Framework Convention for Climate Change
GPR:

Ground-penetrating radar
IPCC:

Intergovernmental Panel on Climate Change
PFSI:

Permanent Forest Sink Initiative
RCD:

Root collar diameter
spha:

Stems per hectare
Declarations
Acknowledgements
We acknowledge the support of the Tairawhiti Polytechnic Rural Studies Unit, Gisborne, on whose land this plant trial was located. We thank interns Claire Butty (France), Sandra Viel (Germany) and Kaisa Valkonen (Finland) and Landcare Research colleagues Alex Watson and Richard Hemming for assistance with field extraction and the partitioning and measuring of plant components. Graphics were drawn by Nic Faville and Suzanne Lambie. Anne Austin edited the script, and Anne Sutherland provided GIS support. Robyn Simcock reviewed and provided valuable comment. Thanks also to the anonymous external reviewers for their valuable comments. This research was supported by funding from the New Zealand Ministry of Business, Innovation and Employment (MBIE), Specific Science Investment Fund (SSIF), 'Growing Confidence in Forestry's Future' research programme (contract CO4X1306) and 'Clean Water Productive Land' research programme (contract C10X1006).
Availability of data and materials
Please contact the author for data requests.
Authors' contributions
MM was the primary author. MM, SL and CJP undertook the fieldwork. SL compiled the data into spreadsheets and completed the statistical analyses. All authors read and approved the manuscript.
Competing interests
The authors declare that they have no competing interests.
Ethics approval and consent to participate
Not applicable.
Publisher's Note
Springer Nature remains neutral with regard to jurisdictional claims in published maps and institutional affiliations.
Open AccessThis article is distributed under the terms of the Creative Commons Attribution 4.0 International License (http://creativecommons.org/licenses/by/4.0/), which permits unrestricted use, distribution, and reproduction in any medium, provided you give appropriate credit to the original author(s) and the source, provide a link to the Creative Commons license, and indicate if changes were made.
Authors' Affiliations
(1)
Landcare Research, NZ, Ltd, Gisborne, New Zealand
(2)
Landcare Research, NZ, Ltd, Hamilton, New Zealand
(3)
Landcare Research, NZ, Ltd, Lincoln, New Zealand